In a forest clearing, covered by a canopy of tall, ancient trees and cut across by a babbling brook, Emily stood with her eyes closed. She focused on the Stoneshell around her neck, concentrating on the weight of the pendant against her chest, and listened for Aria's instructions.
"Have you cleared your mind?" Aria asked.
Emily nodded.
"Good. Now, feel the earth beneath your feet," Aria continued, sounding like a yoga instructor. "Draw from its stability and anchor yourself to its strength. Plant yourself."
Emily wiggled her toes, feeling the softness of the grass and the firmness of the soil beneath it. Her hair was tied back, so as not to disturb her concentration. She felt the wind's caress against her skin and hardened her stance, digging her feet in. She was unyielding, immovable, in complete control. And she was naked, as she had been for most of this adventure so far.
Her cloak and boots lay a few yards away, surrounded by a protective rock formation. Emily had no desire to lose any more clothes to the Stoneshell's unpredictable flames, especially not during practise.
"Now," Aria's voice continued, smooth as silk, "imagine the Stoneshell's power as a small ember within you, glowing but controlled."
Emily held the picture in her mind's eye and felt a corresponding warmth against her chest.
"Open your eyes," said Aria. "Now, direct the Stoneshell's power to the palm of your hand."
Emily held out a hand in front of her and stared at her outstretched palm. Maintaining her focus on the small, glowing ember in her mind's eye, she pushed it forward, from her chest and into her arm, down her arm and into the palm of her hand. A flame appeared in the air just above her palm. It flickered slightly in the soft breeze. Its warmth was soft and pleasant, and Emily knew it would not burn her. At its base, Emily could see the faint outline of a shell.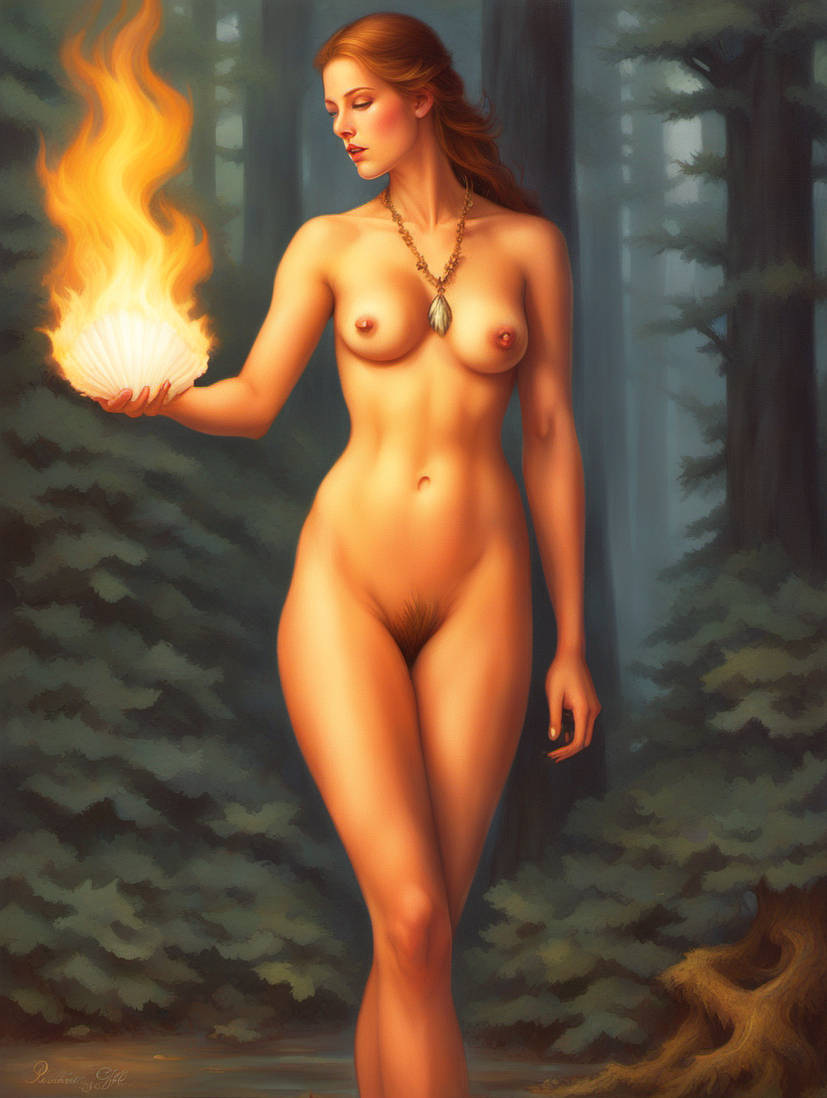 "Good," Aria said, a smile cracking her stone countenance. "Now extinguish it."
Emily took a deep breath, picturing the flame being enveloped by a cool breeze. It vanished instantly.
"Well done, Emily!" Aria said.
"Yes!" Emily cried, pumping a fist in the air. As she did so, small flames exploded upwards from between her fingers. "Woah! I didn't—"
"Emotions, Emily! Be careful with your emotions!"
Emily blushed, recalling the scene at the inn. "S—sorry."
Aria's expression was stern, with a hint of worry in her eye. "It is a simple matter to conjure small, controled flames in a peaceful and secluded setting such as this, with time to empty your mind and calm your nerves. But circumstances may not always be so favorable."
"Sh—should I try to remain calm and emotionless all the time?" asked Emily, eyeing the tendrils of smoke rising from her outstretched hand.
"No, that will not be possible," said Aria. "You must merely learn to be conscious of the Stoneshell and to separate your emotions from it. Know when it is engaged and be mindful. This is a good lesson in that regard."
Emily bit her lip.
Aria paced the clearing. "Every action, every emotion is a spark, Emily. The Stoneshell amplifies these sparks. Controlled, they can be a warm campfire, a guiding lantern in the dark or a powerful weapon against danger. Uncontrolled, they're a wildfire."
Emily took a moment to absorb this, looking at the pendant. It was still warm against her skin. "But there were times I felt strong emotions and yet nothing happened." She thought of Brevin the traveling merchant and of the troll at the river.
Aria pointed towards the pendant. "The Stoneshell has its own will but is especially responsive to immediate threats or extreme distress. Once engaged in the manner we just practised, it will remain active."
Emily gazed at her fingertips. A small flame appeared hovering just above each one. She shook her hand to extinguish them. "This is a lot to take in."
"With time and patience, you will come to wield the Stoneshell with complete intentionality," said Aria. "Of that I have no doubt. Now, reclaim your calm, and disengage the Stoneshell. Imagine a sudden downpour, which extinguishes all flames."
Emily closed her eyes and imagined rain. As she focused on the falling droplets, the Stoneshell began to cool. She did not reopen her eyes until it returned to an inert stone. "I've disengaged," she said.
Aria nodded. "Good. Let us rest a while and eat."
The picnic basket which had been given to Aria by the bartender was nestled among the rocks, with Emily's clothes. Emily took the cloak and spread it out on the grass like a picnic blanket, on which she sat cross-legged and enjoyed a lunch of smoked meats and freshly baked bread, washed down with a flask of apple cider. Aria stood watch at her side. Though quite capable of sitting down, she found it more comfortable to stand.
When she was finished eating, Emily shook out her cloak and pulled it around herself, retiring to a seated position against one of the rocks. It was good to have something to wear again, even if it was a bit scratchy. "We should try to make some money at the next village we come to," she said to Aria. "I'm sure we'll be able to assist a baker, or a seamstress, or just run errands for someone. Then I can buy a proper dress and some underthings."
Aria furrowed her brow. "In my previous life, I never worried for money, so I must admit that I have little experience with it. But I am sure you are right. Perhaps we could even buy a horse!"
Emily grimaced. Though Aria was her ancient and wise guide in this unfamiliar world, knowledgeable in many areas, it would fall to Emily to navigate the economy for the both of them. She didn't want to think how many years of baking bread or darning socks would be needed to afford something as extravagant as a horse.
"Let us continue your training," said Aria, deeming Emily sufficiently rested.
Emily nodded and shrugged off her cloak, mentally preparing to access the Stoneshell's fire once more as she strode towards the center of the clearing.
Over the next few days, Emily and Aria journeyed through an ever-changing landscape. Dense, shadowy woods gave way to sprawling meadows awash with the colors of wildflowers. Then the meadows transitioned into open plains, where tall grasses swayed with the wind like waves in an emerald sea. Emily was grateful for her cloak, but grew tired of holding it closed while nobody was around and would allow it to hang at her sides. What she would give for a few safety pins!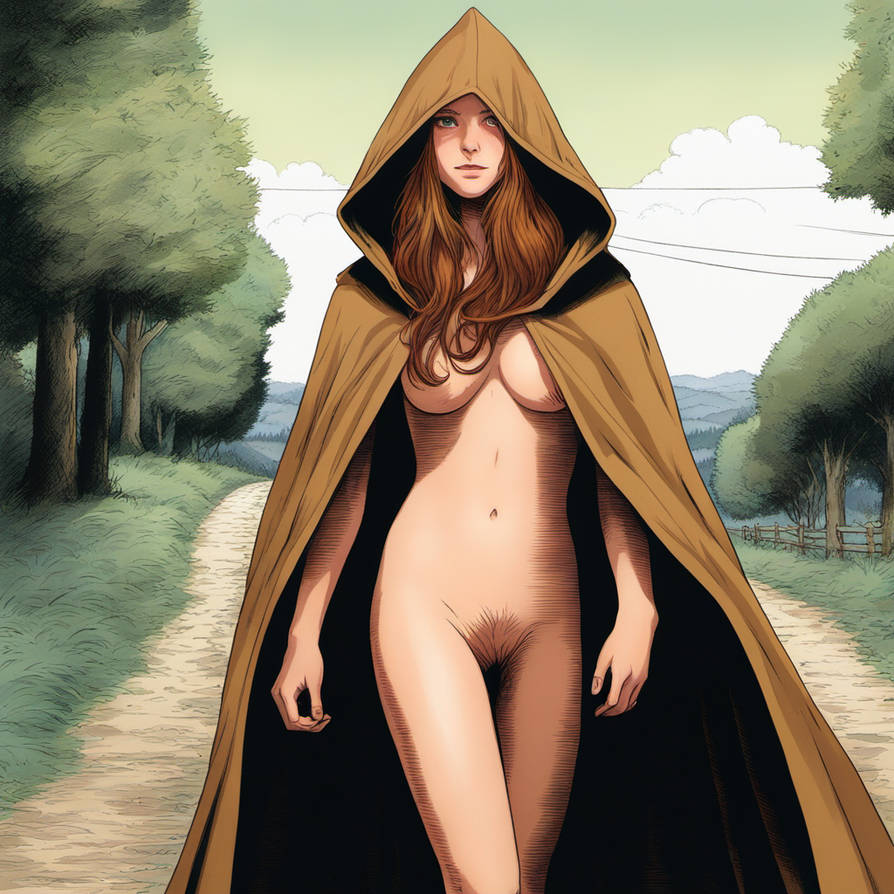 Once the contents of the picnic basket were finished, Emily subsisted on a diet of berries and other fruits. The land was bountiful and always seemed to provide more than she needed any time she became hungry. She slept under the stars, wrapped up in her cloak, with Aria standing watch.
They passed the odd fence or stone ruin, but seldom saw any other sign of civilization. On a good day, they might spy a farmhouse in the far distance. Castle Elid, Aria mentioned, was nestled in the most remote and sparsely populated area of Thessolan. This is what had allowed it to be forgotten for so many centuries.
On the sixth evening since their departure from the castle, as they crested a grassy knoll, Aria slowed her pace and pointed out a distant structure.
"Do you see that, Emily? Beyond the grove of trees?"
Emily squinted against the bright morning sun. A stately manor house came into view, surrounded by neatly trimmed hedges, which were themselves flanked by groves of regularly planted trees.
"That is Odonata Manor," Aria said. "Before I was turned to stone, I was great friends with the lady of that house. It is remarkable how little it has changed. Although I have no doubt that Isolde is long dead."
"I'm sorry, Aria," Emily said, opening her cloak to rest a hand on Aria's shoulder.
"Thank you, my dear, but I have had many centuries to grieve those I once knew," Aria replied. "I carry the sadness still, but it does not affect me as it once did. I only point it out to ask if you would like to visit. I am certain that Lady Isolde's descendants will be warm and hospitable."
The thought of a proper bed and a hot meal was enticing, but Emily was skeptical. "Do you think they still live there?" Emily asked. "And if they do, would anyone recognize your name?"
"I believe they would," replied Aria. "Lady Isolde was greatly in my debt, and it was a debt she never repaid. She promised me the eternal loyalty and friendship of the Odonata line."
Emily looked wistfully at the manor, imagining the luxuries inside. "I hope they remember that promise." She held the sides of her cloak together tightly from the inside.
Twenty minutes of walking took the duo through the neat orchard and in sight of the manor's grand entrance. Tall hedge rows flanked the path up to a pair of enormous wooden doors set into a stone archway. A large crest had been carved into the door, dominated by a dragonfly with its wings outstreched.
"The Odonata family crest," Aria remarked, taking the metal knocker in her stone fingers and tapping it against the door.
Emily heard the sound of shuffling footsteps from behind the doors. They opened a crack, in which the round rosy-cheeked face of a short, stout woman appeared. She turned her eyes from Aria to Emily, causing the latter to pull her cloak closer to herself. "Can I help you?" the lady asked.
"Good day," said Aria. "I am Lady Aria of Castle Elid. Centuries ago, I was a close friend and confidante of Lady Isolde of this great house of Odonata. She gave me her word and the word of her family that I would always be welcome here. I am traveling with a single companion."
The door immediately slammed shut and Aria's eyes widened in surprise. Emily's heart sank as she bitterly resigned herself to sleeping under the stars once more. Aria shouldn't have gotten her hopes up like that.
But before either woman said anything to the other, they found themselves jumping backwards as the manor's grand doors were flung open to reveal a grand foyer. Lush carpets blanketed the floor, ornate multicoloured tapestries hung from the walls and large chandeliers hung from the ceiling. A large staircase dominated the room, at the top of which was an enormous painting set into a golden frame, depicting two life-size women.
One had raven-black hair, intricately braided, and piercing forest green eyes. She wore a gown of shimmering blue and green fabric. Among her jewelery, a dragonfly pendant stood out most prominently. Beside her stood a more plainly dressed lady, tall and elegant with wavy blonde hair and cheerful blue eyes. This second lady wore a white gown and rested a hand on the other's shoulder.
"Lady Isolde," Aria said, speaking scarcely louder than a whisper.
Emily gasped as she realized that in this painting, she was seeing Aria as she had been before. "And you!" she blurted out.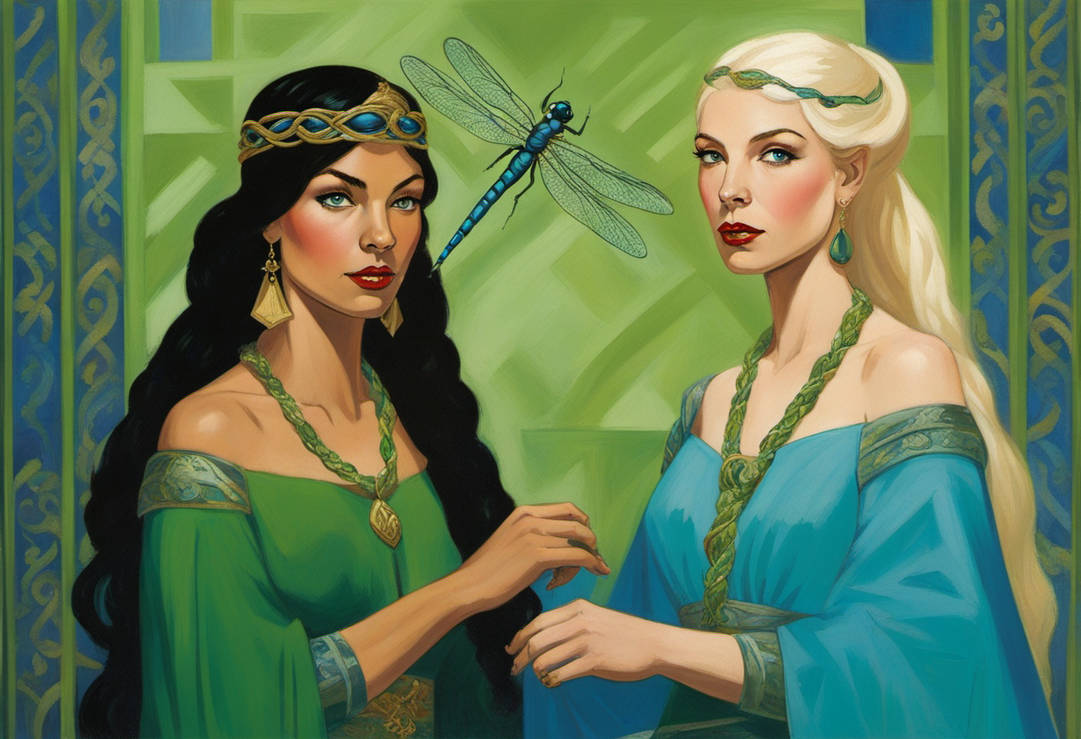 "Yes," Aria said sadly. "Just as I was."
Emily and Aria had been so focused on the painting that they hadn't noticed the woman in front of them until she cleared her throat. She was older than the woman they'd met before, and wore a gown in the same colors as Lady Isolde, though it was of a different cut. Her hair was the same raven black as the painting but streaked with gray and worn up, and her eyes were a striking golden color.
"Lady Aria," she said, "it is a pleasure to make your acquaintance. I am Lady Elara, a direct descendant of Lady Isolde, the greatest of our line. House Odonata has not forgotten your service to her, though many years have passed. It will be my honor to host you and your companion. Please, enter."
Emily and Aria slowly walked into the foyer, looking around at its opulence with wide eyes. A hot meal, a hot bath and a comfortable bed awaited Emily for the first time since she had arrived in this world. Perhaps the Odonata family's hospitality might even extend to providing her with a dress, once she explained her need of one. She fancied that she would look quite fetching in a shimmering green and blue gown, though even a simple servant's dress would satisfy her.
"Please," said Lady Elara, "make yourselves at home." As she said this, she produced a small golden bell from the folds of her dress and rang it. A small, clear tinkle sounded across the foyer, and immediately there was a sound of shuffling feet. "Let the servants take your cloak."
Emily's face reddened at the suggestion. "Oh no, that won't be—" But before she could even finish protesting, she felt gentle hands against her back, followed by the rough sensation of thick fabric sliding away from her skin. "—necessary!"
Emily glanced over her shoulder in a panic, but the servant had already disappeared, along with her cloak. She hurriedly drew an arm over her breasts and placed a hand before her crotch, blushing and squirming in the presence of the regal Lady Elara.
"You are much changed, Lady Aria," said Elara, appearing not to notice Emily's plight. "I detect the work of a mage."
"Yes, I and the whole of Castle Elid was placed under a curse which turned us to stone and trapped us for hundreds of years. It is thanks to the brave efforts of my companion, Emily, who comes from another world, that the curse has lifted enough for me to leave the castle halls."
Elara nodded and glanced at Emily. "And in this other world, do the people go about without clothing?"
"N—no!" Emily stammered, withering under Elara's gaze. "D—definitely not."
"Ah, then you are an eccentric," said Elara.
"Not really! Just unlucky! Can I have my cloak back?"
"Emily was transported to this world unawares, while she was taking a bath," Aria interjected. "Castle Elid had nothing to clothe her, and, having no money, we have been unable to find much else since our departure. Please do not take her state of undress as a sign of disrespect, Lady Elara."
"I see," said Elara. "I will have the servants prepare an outfit for you. But first, let us eat!" Elara spun around on her heels and beckoned her guests to follow her.
Aria took a tentative step forward before looking at Emily, who stood firmly rooted to the spot, the blush spreading from her face down through her shoulders. Halfway across the enormous room, Elara stopped and looked behind her, raising a quizzical eyebrow.
"S—sorry, ma'am, b—but I'd really like my cloak back now," Emily said, almost more embarrassed to be asking such a question than to be standing naked in the middle of the room.
A peal of laughter issued from Elara. "That ratty old thing? The servants will already have started washing it by now."
Emily's mouth hung open in disbelief. She hadn't even seen the servant who disrobed her, so swift and silent had they been.
"Don't worry, you'll have it in your quarters by morning, along with some proper clothes. For now, let us eat, drink and be merry!"
"B—by morning?" Emily stammered.
"These things take time, even with magic," Elara said, winking slyly. "Now come along, dear, the food will be getting cold. We're all girls here, you haven't got anything we've not seen before."
Emily looked to Aria for assistance, but the latter merely shrugged. A timely growl from Emily's stomach made the thought of a hot dinner quite appealing, even if she would prefer not to eat it naked.
Sighing inwardly, Emily tentatively stepped forward, keeping her arms around herself for cover. After a few days of having the cloak for cover, nudity had lost its familiarity, and the piercing gaze of Lady Elara's golden eyes didn't make her feel any better. It was one thing to be naked in the forest, with only Aria to see her, and quite another to be naked in a stately home before its opulently dressed owner. In these surroundings, Emily would have felt underdressed in a T-shirt and shorts—in just her skin, she felt barely human.
"Please leave those boots in the hall if you would," said Lady Elara, glancing back again. "They're in even more need of cleaning than the cloak."
Emily looked down and realized to her great horror that she had been leaving muddy bootprints on the foyer carpet. "S—sorry!" she squealed, scrambling to untie her boots.
"Do not fret, the servants will be along to clean any mess," Elara added.
The carpet was soft and luxurious against Emily's bare feet, which made no sound as she followed Elara and Aria through an archway into a large dining room. The room was dominated by an enormous banquet table, easily large enough to seat twenty. Three plates were laid out at one end.
Elara took her place at the head of the table, and Emily and Aria sat at the chairs on either side of her. There was a scraping noise as Aria sat down—this was not something she was accustomed to doing.
The seat cushion was soft and comfortable under Emily's bare bottom, and the meal in front of her looked and smelled delicious. Once Elara had bade her to begin eating, she tentatively reached for the knife and fork on either side of her plate, releasing her breasts from the tight grip of her arms.
"I am afraid this food is wasted on me, Lady Elara, for I have not eaten since I was turned to stone," Aria said, looking mournfully down at her plate.
"A pity," replied Elara, taking up her own knife and fork. "But were you not stone, I may never have had the pleasure of your acquaintance. We can take solace in that, as you tell me of Lady Isolde."
Emily devoured her meal as politely as she could, savoring the taste of cooked meat and vegetables. By focusing on her food, she could ignore the awkwardness of the situation and gain some enjoyment from it.
But when she looked up again, in mid-bite, Elara was staring at her chest. She froze, mortified but too polite to cover up. The stare made her feel every inch of her exposed skin.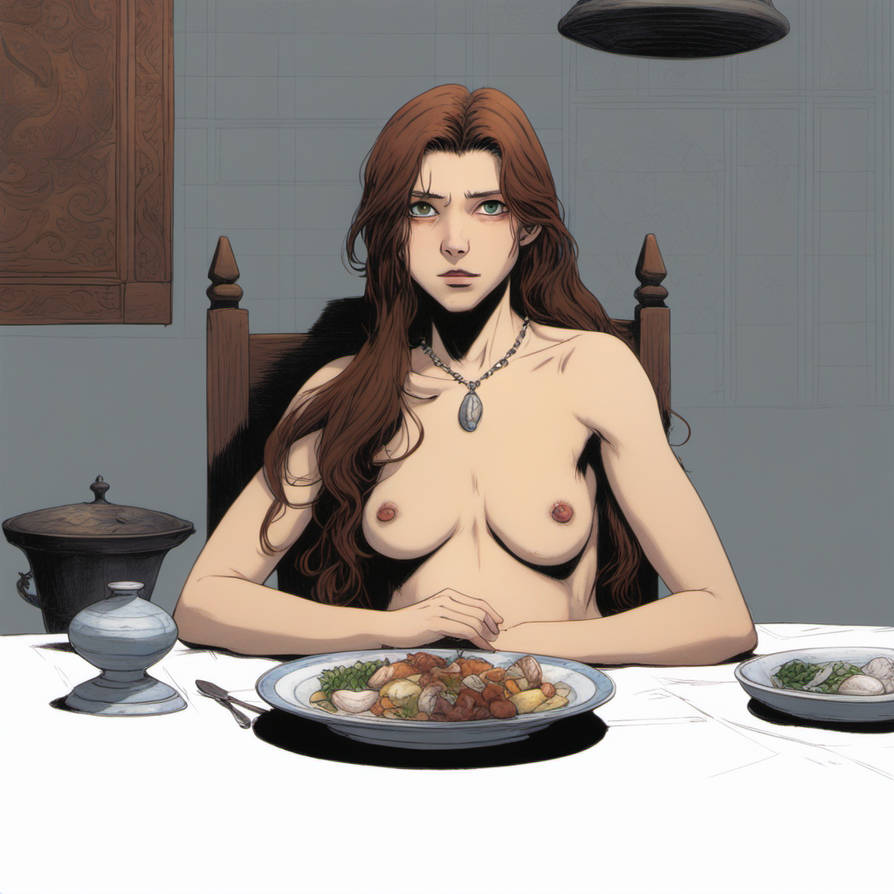 "That's a beautiful necklace, Emily," said Elara, for she had really been staring at the Stoneshell. "Does it come from your world?"
"No," Aria interjected. "That is the Stoneshell. It is the magical artifact Emily recovered that freed the statues of Castle Elid from bondage. She braved great dangers to retrieve it from the Labyrinthine Pool."
"The Stoneshell…" Elara repeated, eyes narrowing on the pendant. "Does it do anything else?"
As if in answer to Elara's question, a plume of flame erupted from the pendant, shooting straight up to the ceiling. Elara, who had been leaning forward, shot back into her chair, eyes wide.
"Eeep!" Emily cried, blushing furiously.
Lady Elara quickly got over her initial shock. "Marvelous! Instant fire, without burning the wearer. But please, warn me next time."
"Emily is still learning to control the Stoneshell's power," Aria said. "I have been training her."
"Such powerful magic, wielded by one so young and untutored," Elara mused, giving Emily a stern glance. "It is no wonder you have trouble staying clothed, with fires exploding from your chest."
Emily demurrly placed a forearm in front of her breasts. "I—it's one reason, yes."
"She has been training in the nude," Aria added. "Directing the flame away from clothing will require immense control. But it will come. The Stoneshell chose Emily, after all."
Elara raised an eyebrow. "Yes, magic is a mysterious thing."
Once the meal was finished, Emily let out a large yawn, which immediately garnered a look of sympathy from Elara. "You must be tired, dear," she said. "I will have a servant direct you to your quarters. Bessie!"
Soft, quick footsteps proceeded the reappearance of the servant who had greeted them at the door. She stood at Emily's side, awaiting orders. Her expression was neutral, but quite forcedly so, and she kept stealing glances at the naked girl.
"Bessie, please show Miss Emily to her quarters. She is quite worn out and in need of a good night's sleep. Don't mind her dress just now, but do make certain to set something nice out for her to wear on the morrow. Goodnight Emily!"
Emily hesitated for a moment, looking at Aria, who smiled at her. "I have no need of sleep," she said to Elara.
"Wonderful, then we shall both stay up and discuss my storied ancestor Isolde!" Elara said. "You would be bored to tears by the natter of two old ladies, Emily dear, and I wouldn't want to keep you up. There's a nice warm bed upstairs, and you'll have the perfect dress in the morning, Bessie knows the one I mean. Goodnight!"
The thought of wrapping herself in a warm blanket was enough to persuade Emily to say goodnight to Elara and Aria and stand up from the table. "Thank you for the wonderful dinner, Lady Elara," she said, keeping her voice steady as she prepared for another naked walk.
Emily followed the servant, Bessie, through the empty halls of the manor. "The other servants 'ave gone to bed early, Mistress's orders," Bessie remarked. "I see why now. You'd cause something of a commotion, Miss Emily, 'specially among the menfolk. Nearly fainted myself when I took your cloak and saw nothing underneath!"
"That was… kind of her," Emily said. Returning her cloak would have been a lot simpler, but this was the best she could hope for in lieu of that.
Emily was led to a room on the west wing of the manor. It was an expansive chamber, walls adorned with floral wallpaper. Deep mahogany woodwork framed the room, lending a rich contrast to the lighter walls. Tall, arched windows draped in soft, diaphanous curtains dominated one side of the room. Their design incorporated stained glass inlays depicting dragonflies.
In one corner stood an ornate wooden wardrobe, its doors carved with more dragonflies and vines. Opposite the wardrobe, a vanity table with an ornate mirror provided a space for personal grooming. The table was dotted with porcelain dishes filled with brushes, combs, and assorted vials of scented oils. Soft, braided rugs cushioned the stone floor. A stone fireplace was built into one wall, its mantel adorned with trinkets and keepsakes.
But what caught Emily's eye most of all was the four-poster bed in the center of the room. Its frame was carved from the same dark wood as the trim. The mattress was covered in crisp white linen and a fluffy duvet. The pillows, following the overall theme, were embroidered with dragonfly patterns.
Emily confirmed by feel that the duvet was stuffed with down feathers as she pulled it off the bed and wrapped it around herself, holding it tight against her bare skin.
"Goodnight ma'am," Bessie said. "Sleep well."
"Goodnight Bessie," Emily said, collapsing onto the mattress the instant Bessie closed the door. With the duvet wrapped around her, she was warm, comfortable, safe and hidden from the eyes of the world.
Emily awoke to soft rays of sunlight spilling through the diaphanous curtains of her room. She was still wrapped in the duvet, which was a far more agreeable thing to sleep in than her scratchy cloak. Slowly, she pulled herself up to a sitting position, yawning and blinking the sleep out of her eyes. The duvet slipped to her waist as she surveyed the room.
While she was sleeping, the servants had brought in a claw-footed bathtub, which sat beside the fireplace. Inviting curls of steam rose off the water. Soaps, scrubbing brushes and various cleansing oils had also been provided.
The servants had also brought Emily's promised outfit. On a chair near the door hung an assortment of garments—Emily saw petticoats, a corset and a light blue dress, complete with a bonnet, as well as a pair of stockings and buckled shoes. There was more clothing in this one outfit than she had worn at any time since arriving in Thessolan. Getting dressed may actually take some time, for a change.
Giddy at the prospect of proper clothes, Emily climbed out of bed and into the tub, where she vigorously scrubbed herself clean so that she would be fresh for the new outfit. Once done, she toweled herself off and sat down at the vanity table to brush her hair and apply makeup. How nice it would be to have makeup again!
Watching herself in the mirror made Emily self-conscious of her body. She'd been walking around just as she was now, for days, outside! Of course, she'd had the cloak recently, but she'd still stripped off regularly for Stoneshell practise. And before then… so many people had seen her most intimate form, many more than she'd ever expected.
But that was over now. She had an outfit. As long as she was careful with the Stoneshell's power, there was no reason it wouldn't last. Maybe Lady Elara would even be generous enough to give her a spare set of clothes as well.
Emily missed her friends and family, and her own world, but the land of Thessolan excited her. The more time she spent here, the more she longed for adventure. But thoughts of adventure, of magic, of finding a way to return home, or helping Aria with whatever her mysterious quest was, all those thoughts had been sidelined by the discomfort of her strangely prolonged nudity. Now that that was behind her, the real adventure could finally begin.
As Emily stood up from the vanity table, she took one last pointed look in the mirror. "So long, flesh!"
Getting dressed was an involved process. Emily savored the feeling of fabric against her skin, of leather encasing her. Shift, petticoats, stockings, corset, dress, shoes, bonnet, she piled on the fabric until only her hands and face still showed. Then, smiling, she reached her hands behind her neck and pulled off the Stoneshell necklace.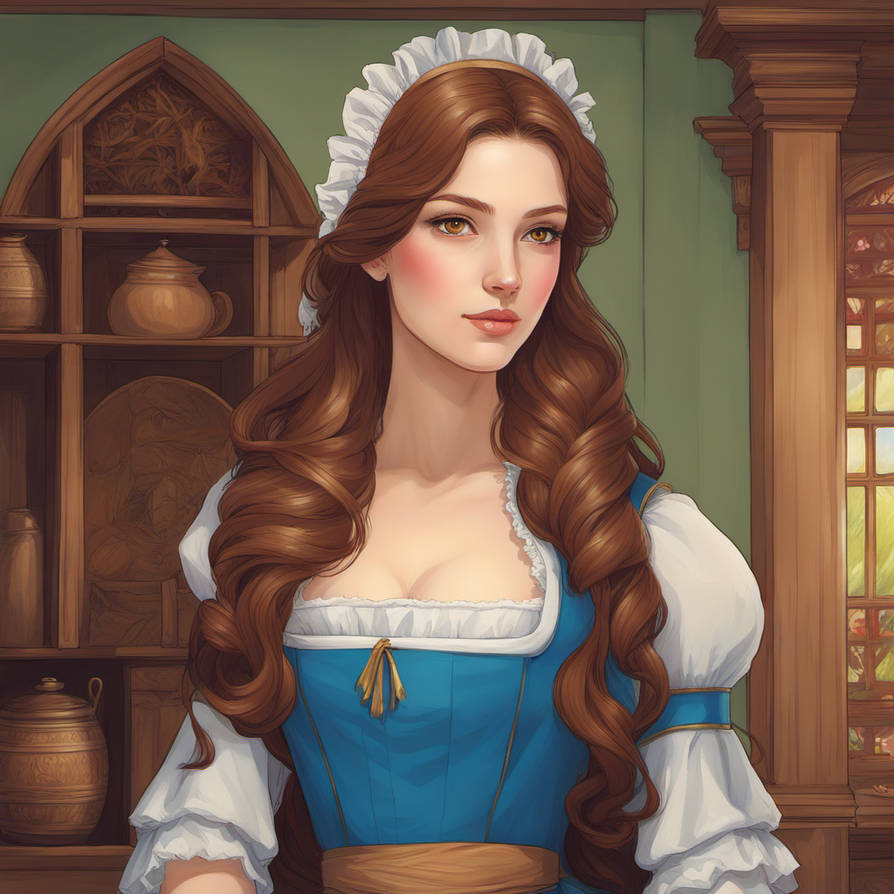 No! A jolt of fear shot through Emily's spine. This wasn't right. She shouldn't be removing the Stoneshell. There was an important reason to keep it on at all times. A very important reason, but one she couldn't quite recall.
Emily wrapped the necklace around her fingers and walked out of her room, closing the door softly behind her. There was something more important than keeping the Stoneshell around her neck, and that was giving it to her mistress. She had just remembered that now, and would have to hurry so as not to disappoint her.
No… that wasn't right. Emily's head throbbed beneath her new bonnet. Her legs moved forward down the hall, carrying her along as if they had a mind of their own.
Emily's legs transported her to the dining room, where a smiling Lady Elara was ready to receive her, hands outstretched. "Good morning, Emily, I hope you slept well."
"I slept wonderfully, Mistress!" Emily replied, her enthusiasm startling her. "I'm well rested and ready to serve! Here, you should have this."
Emily's hands shook as she held out the Stoneshell, but she held it out nonetheless. Grinning cruelly, Lady Elara snatched it from her palms, devouring it with her greedy eyes. "Thank you, my dear," she said. "Now, Bessie will be wanting to see you in the scullery. Don't keep her waiting!"
"Yes ma'am!" Emily replied, all but saluting Lady Elara.
As Emily left the dining room, a battle raged in her head. Something was terribly, horribly wrong, but she didn't know what. She had just done something terrible, possibly unforgivable. But how could her mistress's orders be either of those things? It was all very confusing. If only her mind wasn't so full of cobwebs!
Emily's mind spun in violent circles as she walked towards the scullery, her feet moving mechanically. She knew that she wasn't in control of herself, but it seemed like a wall rose up in her mind every time she dwelled on that thought. Lady Elara was her mistress, good, kind and wise. She was a servant of the House of Odonata, which took good care of her. These were safe thoughts, thoughts that comforted her briefly, but they had no depth. She had no memories of serving Lady Elara, and did not even know where her feet were leading her in this enormous manor, which seemed to grow more sinister by the moment.
Tapestries and elegant paintings took on the appearance of cruel, mocking faces, while the eyes of the ancestral portraits following her every move. Emily forced her eyes forward and hurried her movements. Finally she came to the scullery, where Bessie was waiting for her.
The person of Bessie caused more confusion in Emily. She had met this person only yesterday, but was now being addressed in familiar terms and given orders by her.
"I see Sleeping Beauty has finally deigned to grace us with her presence," Bessie said contemptuously. "You're to sweep the kitchen and then dust the library. After that, mop the ballroom floor until you can see your reflection in it!"
"Yes ma'am!" Emily said at once, darting to the broom cupboard. Her movements were automatic, instinctual. She felt like a mere observer, watching her body move from the prison of her mind. But even her mind was not her own—her memories were inaccessible and her thoughts booby-trapped.
Mentally exhausted, Emily slipped into a stupor, passively watching herself carry out Bessie's orders. Her body moved on its own, but she still felt the strain of uncomfortable positions and repetitive movements as she swept, dusted and mopped.
"I suppose that will be good enough," Bessie said sometime later, kneeling to examine the ballroom floor.
Emily breathed a sigh of relief.
"Oh, you're not finished yet," Bessie added. "Mistress's dresses need ironing."
And so Emily dragged her tired body to the ironing room, a small, cloistered chamber with a roaring fireplace. It was near noon on a hot day, and the pile of dresses in need of ironing came up to Emily's waist.
"Get cracking then!" Bessie said, scurrying out of the uncomfortably hot room.
After spreading the first dress across the ironing board, Emily pulled on a pair of thick leather gloves and picked the iron up from the fire. The heat was sweltering, and she could feel sweat pour down her face. Wiping it from her forehead with the back of her hand, she caught a gloved finger on her bonnet and pushed it slightly askew. Then she picked up the iron, which was much heavier than the plastic, electric irons she had always used.
Plastic. Electric. Those words… they were not of this world. Emily was not of this world. She came from somewhere else. Somewhere where she was a free woman, not a slave of Lady Elara Odonata. What's more, she was the rightful bearer of the Stoneshell, which she had found in…
A surge of pain shot through Emily's temples and coils of black smoke rose to her nose. While she had been having these realizations, her body had been moving through the motions of ironing Lady Elara's dresses, totally disconnected. But that had been disrupted, and now she was on the verge of starting a fire!
Wide-eyed, Emily wrenched the iron back from the board. The dress was ruined, but she had done no further damage. After setting the iron back down by the fire, she took a few deep breaths to steady herself. By this point, her bonnet had dislodged itself completely from her head and was hanging behind her by the strap around her neck. Memories, thoughts and feelings flooded back to her.
Emily's mind was clear. But she did not regain control of her body. Moving with no instruction from her mind, her hands swept the ruined dress from the ironing board and placed another in its position, before resuming the task of ironing, as though nothing had happened. Try as she might, she could not so much as waggle a pinky finger.
It was the clothes. Envious of the Stoneshell, Lady Elara had exploited Emily's trust and desire for clothing by giving her an enchanted outfit that had made her a slave. Elara was clearly a very powerful witch. Or was it a mage? She would have to ask Aria.
Aria! Where was Aria? Had Elara done something to her?
No, Aria was all but indestructible. Except, with the Stoneshell separated from its bearer, the full force of her curse would return. But what did that mean? Emily needed to find Aria as soon as possible. But before she could do that, she would need to regain control of her body.
"Emily!" cried Bess's voice, startling her. "Leave what you're doing and come help with the cooking. Mary's down with a fever and we need someone else to fill in!"
After carefully setting the iron down away from the fire, Emily hurried out of the sweltering ironing room and followed Bessie to the kitchen, where several servants were running about stirring pots, chopping vegetables and lighting stoves. As her body automatically inserted itself into the process, her mind was spinning with schemes to escape her current predicament. She was careful to keep her face blank of emotion.
"Aye Emily," said a freckled maid of a similar age to her own, "you're bonnet's come off. Here, let me help you."
Emily's blood ran cold. "Oh, no, that's quite alright—really—don't—"
But it was too late. The smiling maid picked up the bonnet and set it back tightly on Emily's head, shutting her out of her own mind. All thoughts of Aria, the Stoneshell and her homeworld ceased at once, and an impenetrable fog descended. Emily picked up a knife and started chopping carrots, a stupid smile on her face.
That evening, after thoroughly cleaning the kitchen all on her own, Emily dragged her tired body into the servants' quarters, where she had been given a bunk among a group of young female servants. She would have just enough energy to peel off her outer garments. When she removed her bonnet, her mind cleared once more, but her body, still encased by a shift, remained out of her control. All she could do was collapse into bed and fall to fitful sleeping. Her roommates huddled together and whispered to each other, casting fearful glances in her direction.
The next morning, Emily was awoken by soft whispers.
"So we have to put this back on her head right as she wakes up?"
"Yes, Bessie says it's very important. Says she'll fly into a blind rage without it."
"But why?"
"She's a madwoman. Mary says she spied her wandering the halls without any clothes on the night she came here."
"Why do we have to share a room with a madwoman?!"
"It's her cure, I'm told. The bonnet keeps her 'ead together and hard work rebalances her 'umors, or some such. She's a relative of the Mistress, but that's very hush-hush. Anyway, I won't complain, not when Bessie's giving her all the worst jobs."
"I'd rather muck out the stables every day and sleep knowing I won't be murdered in my bed!"
"Hush now, she's harmless. And she's waking up!"
As Emily's eyes fluttered open, rough hands slammed the bonnet back onto her head. Two curious faces hovered above her own.
"Who—who's that you were talking about?" Emily asked, quivering. "The madwoman! She sounds awful!"
The two women glanced at each other awkwardly. "Oh, don't mind that," said the one who'd done most of the talking, a heavily freckled blonde. "I was just telling Gladys here a story I 'eard about the place my cousin works." She elbowed her companion roughly, a skinny dark-haired girl who was resolutely avoiding eye contact with Emily's.
"Y—yes," said the dark-haired girl, Gladys. "Ethel was just trying to frighten me with a story."
"You made it sound like the madwoman was in the room with us!" Emily replied, sitting up in bed. The tightness of her bonnet made it difficult to think.
"Oh, well, Gladys gets into these things a bit much sometimes," Ethel said unconvincingly. "Come along then, Bessie'll be waiting for us."
Emily climbed out of bed and put on her outer garments, pervaded the entire time by the sense that she was forgetting something very important. She had the sense that she had dreamed of many things during the night, but could not recall any of them.
That day, Emily's chores took her into the manor's grounds. She tended to flowerbeds and trimmed hedges, which took her among many stone and marble statues. One in particular caught her eye. It was a life-size statue of a tall, elegant woman in a flowing robe. Unlike the other statues in the garden, which all had stoic expressions, this one wore an expression of dreadful sadness and pain. Looking at the statue's sad, frozen expression, Emily felt tears welling up in her eyes.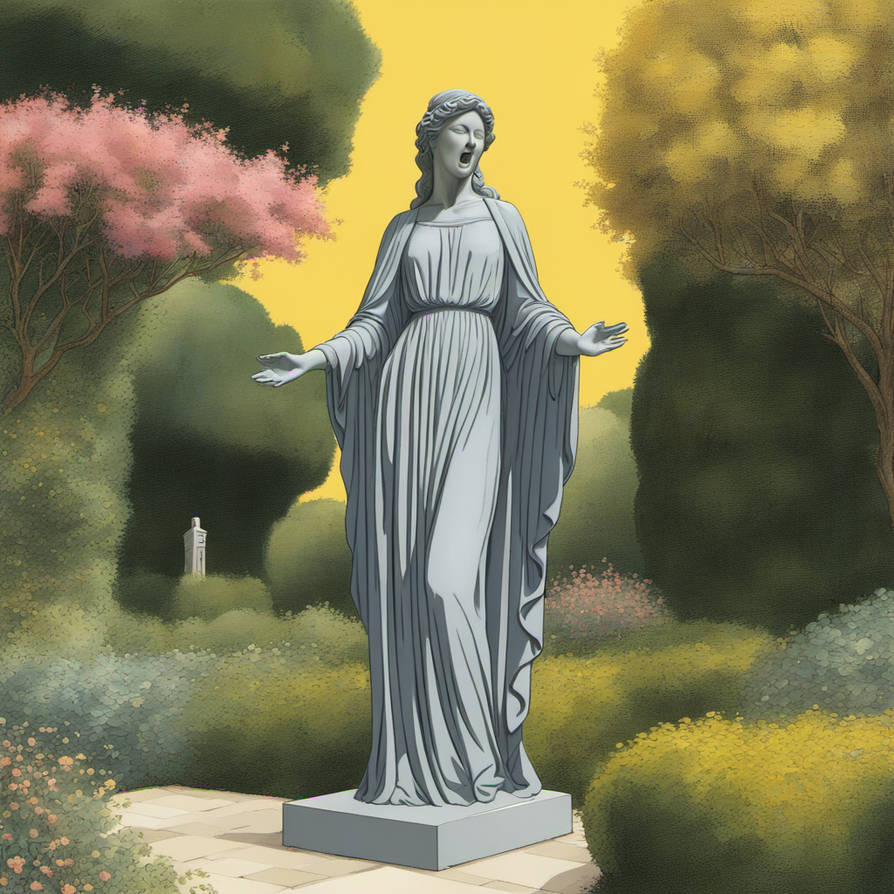 What a silly thing, to cry over a statue! Especially when there was so much work still to do. Wiping her eyes with her sleeve, Emily continued trimming the hedges.
Each morning, Emily received instructions from Bessie on the day's tasks, and each night she dragged her exhausted body to bed, under the careful watch of her roommates.
Between her bonnet coming off and her mind succumbing to sleep, she was lucid. But the rush of hopelessness was almost too much to bear. The Stoneshell was gone, Aria was frozen and she was a powerless slave to Lady Elara Odonata. Perhaps it was a mercy that she could only think these thoughts for a few minutes every evening.
The Odonata estate employed a large number of servants. Far too many, Emily thought, for the needs of a single old woman. Most of the servants were women, but there were a few men as well. Most were older even than the lady of the house, save for a fresh-faced young assistant gardener named Stuart, whom Emily met on her second day of garden duty when he helped her dig a flowerbed.
"Be careful of that boy," Ethel said to Emily that evening. "He comes off as a real charmer, but he likes nothing more than a good prank on an unsuspecting lass. And he's taken a real interest in you, dear."
Emily thanked her for the advice. She was probably jealous, for Stuart had a certain impish charm, with his curly brown hair and sparkling green eyes. Emily wasn't particularly taken with him but could sense his interest in her without Ethel's help.
Some days later, while Emily was sweeping leaves from the path leading up to the front of the manor, Stuart suddenly appeared in front of her with a winning smile. "Miss Emily! Fancy meeting you here!"
"Hello, Stuart." Emily continued her sweeping.
"I've been wanting to ask you something, Emily," Stuart continued, his eyes darting around and focusing everywhere but her face.
Here it came. "Well?" Emily asked.
"Would you care to take a picnic with me, out on the grounds?" Stuart asked, finally looking her in the eyes. "I know a beautiful and secluded spot."
Emily hesitated before replying, considering the ideal way to let him down gently.
"Please, Miss Emily!" Stuart pleaded, grasping his hands together in front of his face. "Tomorrow is a holiday, and I can think of no better way to spend it than in your delightful company."
"That's very flattering, but…"
"Tell you what," Stuart interrupted. "I'll make you a deal. They're always giving you the toughest jobs around here. I, on the other hand, have only one last thing to finish off today, and then I'm done. How about we swap, and you can have the afternoon off? All I ask in exchange is that you accept my invitation."
Emily pondered. She still had to wash a mountain of sheets and clean the manor's enormous kitchen and had been particularly dreading the latter, as Lady Elara had hosted an enormous banquet the previous evening. "Good to see our ladyship enjoying herself for a change," Gladys had said, while she and Emily waited the table. "She's been holed up in that tower for days, fiddling with some magic necklace." Recalling the words sent a jolt of pain through Emily's skull.
"What job do I have to finish?" Emily asked, shrugging off the pain.
"Oh, it's my favorite," Stuart replied. "Stomping bellgrapes for Odonata wine! And they're mostly stomped already."
Stomping some grapes and having a picnic with Stuart in exchange for not having to do the rest of her chores. That actually seemed like a pretty good deal. "Okay, Stuart, lead me to the bellgrapes."
"Hooray!" Stuart cried, jumping up and clicking his heels together. "Right this way, Miss Emily!"
Stuart led Emily back into the manor and then along a corridor she hadn't previously been down. At the end of the corridor was a large, airy room with a large bucket in the middle and some paintings on the walls. Splotches of purple liquid marked the floor beneath it, and Emily could smell a fruity aroma.
"All you have to do is stand in the bucket and stomp on the bellgrapes until they stop ringing," Stuart said. "It's quite a lot of fun, really!"
"Isn't it a bit messy?" Emily asked, glancing at her shoes.
"Oh yes, you'll have to take off your shoes first," said Stuart. "And the juices really do go everywhere, so it's best to take everything else off as well."
"Beg your pardon?"
"It's okay, there's a special suit you wear for this, and it's right… over… oh dear."
Stuart looked around the room frantically, darting to and fro and inspecting every corner. "Where has it gone now? How strange, I was certain I left it right here."
"Perhaps it's been taken to the laundry," said Emily, thinking of the sheets she would now have to wash.
"Perhaps…" Stuart echoed. "A pity. But, you know, it's not essential to have the suit."
"I can't get my dress full of bellgrape juice!"
"Definitely not! I wasn't suggesting that."
"Then what were you suggesting?"
A sly grin stretched across Stuart's countenance. "Well, I've heard that some of the best bellwine makers like to do the stomping with nothing on."
Emily gasped, a blush spreading over her face. "Stuart! I am not undressing in front of you!"
"Oh Emily, you wound me!" Stuart cried, looking quite hurt. "I would never suggest such a thing to an upstanding lady like yourself. Rest assured, should you embark on this course, I will depart at once and you can lock the door behind me."
Emily glanced around the room. The windows were all quite high up and the only door into the room was the one they'd entered through. There was a large, heavy-looking key in the door's lock and a bolt beside it. The bellgrapes in the bucket, as Stuart had said, were mostly squashed already.
"I'll do it," Emily said. "Thank you, Stuart."
"It is my pleasure," Stuart replied, bowing low. "Now I bid you adieu, as I make haste for the laundry room and my dear Emily's chores!"
Once Emily had locked and bolted the door behind Stuart, and once his footsteps had receded into the distance, her thoughts turned to disrobing. She was terribly shy and habitually slept in her shift to avoid having to take it off in front of her roommates. The thought of being naked on the job made her queasy. But it did seem the only sensible course of action, so Emily sighed and sat down to remove her shoes.
Shoes, stockings, dress, corset, petticoats, all came off and were folded up neatly and placed in a corner, far from the bucket. Emily stood in her thin shift and hesitated. It surely wouldn't be so bad to get a bit of bellgrape juice on this undergarment, would it? Emily climbed into the bucket, the bellgrapes making small tinkling sounds beneath her soles.
She stood for a moment, motionless. This was the only shift she owned, so it really would be best to keep it clean. And the door was locked and bolted, after all. Mouth set in determination, Emily pulled the shift over her head.
As soon as the shift came off, her hand jerked violently up to her head and, as if controled by a demonic force, tore the bonnet from her head and threw it against the wall. "Aargh!" Emily screamed, jumping on the grapes in frustration. "I—aargh!"
Emily stomped up and down on the grapes angrily, pouring out all of the anger, frustration and hopelessness that had welled up inside her for days. Finally, she was free of the shift, free of the bonnet, free of Lady Elara's control. And, for whatever reason, that meant being naked again. Truly naked, without even the Stoneshell around her neck, though she'd managed to hang onto her trusty hair tie.
Out of the corner of one eye, Emily noticed a small movement on one of the paintings. She immediately turned her head towards it. It was a portrait of a man in a jester's outfit, with an inappropriately long, pale and humorless face. The man's eyes were dark holes, though Emily seemed to remember them being… green.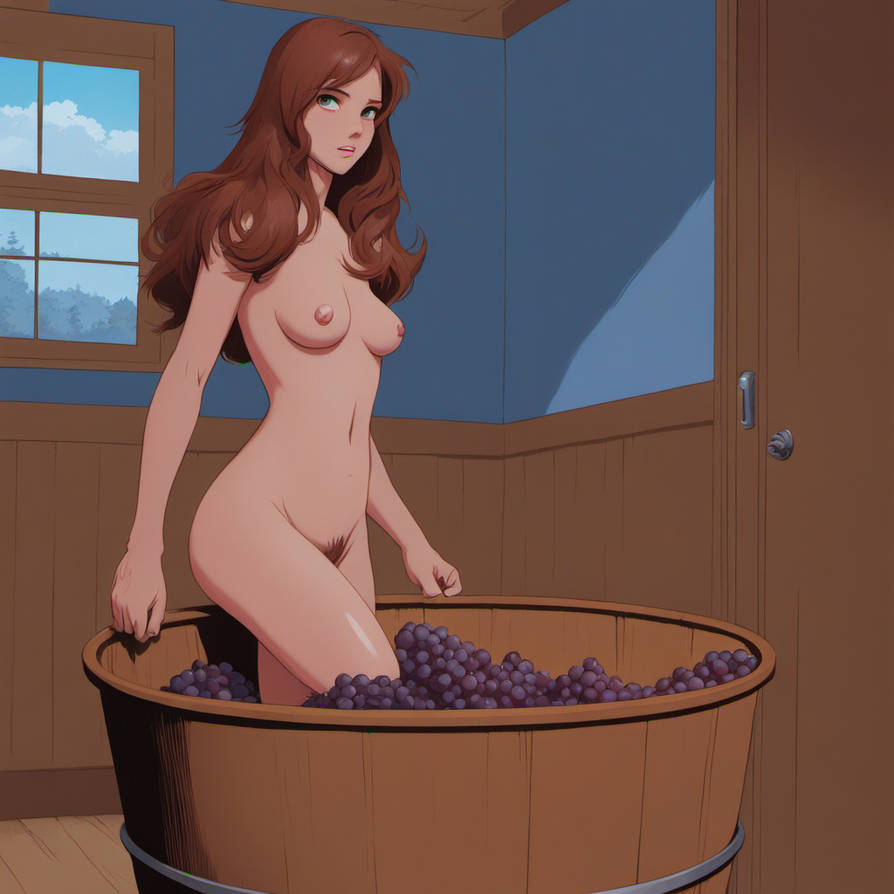 Ethel's words of warning immediately sprung to mind. A gasping and blushing Emily immediately brought her arms around her chest and angled herself away from the painting. Then, realizing she was now giving Stuart a prime view of her butt, quickly moved her hands behind it.
The lecherous bastard! If Stuart hadn't inadvertently freed her from Lady Elara's spell, Emily would have been quite a lot angrier with him. As it stood, perhaps he could be of some use to her.
"Stuart!" she cried. "Stuart, I know you're there! Come back here at once, I want to talk to you!"
Loud and disorderly sounds of scuffling and banging sounded from behind the painting, and the pale-faced jester's eyes went dark for the last time. Emily wondered for a moment if Stuart had just run away, but soon enough she heard footsteps returning down the hall. "M—miss Emily?" Stuart asked, voice shaking.
"Just a moment!" Emily darted from the bucket, unlocked and unbolted the door, and then darted back into the bucket. Seeing no alternative, she collapsed her legs and let her body sink into the mass of squashed bellgrapes in a cacophany of tinkling. If she hunched a little, only the tops of her breasts were visible above the purple mass.
"You can come in now," Emily said.
The door opened and Stuart's green eyes locked onto Emily's own, growing wide as saucers as he realized she was still naked.
"I—uh—um…" For once, the famous charmer was at a loss for words.
"Save it," Emily said, trying to sound more tough than she felt. "I know what you were after, and you got your peek. Now you owe me a favor."
"Yes, anything!" Stuart said, unable to take his eyes off her.
"Is Lady Elara in the tower right now?"
"She's barely left it for the last week."
"I need you to make her leave it. Create a distraction, or cause some disturbance that gets her out of that tower. I don't care what. Just do it, and come back here once it's done. Then do everything you can to keep her occupied for as long as possible, okay?"
Stuart nodded violently. "I'll do it. But why?"
The question blindsided Emily. For a moment, she felt like she was losing the upper hand in the situation. Desperate times call for desperate measures. After taking a deep breath in and out, Emily stood up. "Because I asked nicely."
Stuart's eyes looked like they were going to pop out of his head, pupils dilating at the sight of Emily's uncovered body, slick and dripping with bellgrape juices. For her part, Emily blushed furiously and fought every instinct to cover up. "Come here," she said, trying to sound sultry.
Stuart staggered over to the bucket, eyes still glued to Emily's body. Emily leaned forward and pecked his cheek. "Thanks for helping me, Stuart."
Now it was Stuart's turn to blush and squirm. Emily reached out a hand, touched his cheek gently, then pulled back and slapped him.
"Ow!"
"That's for being a pervert! Now go! Remember your orders!"
Stuart nodded again and rushed off, but not without numerous glances over his shoulder until he was out of sight. Mortified and more than a little ashamed, Emily dropped back down into the bucket and tried to submerge herself as deeply as possible into the tinkling grapes. She'd always prided herself on being a smart, resourceful girl, not needing to sink to emotional or sexual manipulation like other women. Hopefully, Stuart wouldn't be expecting anything further for his trouble.
She had played the cards she was dealt, and if she could get the Stoneshell back and escape with Aria, it would all be worth it. Even the streak she was about to take across the manor.
Could she ask Stuart for any of his clothes, once he returned? No, he would need to continue distracting Lady Elara, and it would be too suspicious if he appeared without his tunic, or wearing something different. And how could Emily trust any of the clothes in this place, after what she had just been through? As far as she knew, none of the other servants were magical slaves, as she had been—she had seen the other girls wash, and Stuart seemed only too keen to break rules and cause mischief. They all seemed to have been fed the same story about Emily being a madwoman.
She would have to streak to the tower, then. That was how her luck seemed to go these days.
Rapid footfalls sounded from down the hallway and Stuart burst through the door, panting for breath, a stack of books under one arm. "Mistress away from the tower—magic accident—fetching her books—aren't you going to get dressed?"
Emily bit her lip. "Not for an audience! Thank you, Stuart, please keep Lady Elara away from the tower as long as you can."
"Yes ma'am!" Stuart saluted before turning tail and running off.
Stepping out of the bellgrape bucket and dripping on the floor, Emily noted the similarities between her current situation and her arrival in Castle Elid. The main difference was her sense of urgency. However good Stuart's distraction, Elara could only be occupied so long. The manor was crawling with servants, who would certainly not tolerate her streaking through the halls, let alone entering their mistress's private tower.
Emily reminded herself of this as she stepped across the doorframe of the bellgrape threshing room and into the long hallway, leaving her enchanted clothes far behind. There was no time to dwell on the danger of her mission, or on her exposure. But that didn't mean she could stop herself from doing either.
Clinging to a wall on one side of the hallway, Emily walked cautiously forward, ears primed for the sound of movement or voices. Her arms were pressed against her body, though that offered limited coverage. If she encountered anyone, she would have to duck into one of the rooms. But what if the door she tried was locked? Emily shook off the thought and quickened her pace.
The hallway eventually snaked out into the manor's grand foyer, a disgustingly cavernous space for a naked girl. Worse still, she could hear voices! Emily sprinted for a large tapestry hanging from the ceiling to the floor and hid behind it.
Just as she settled into her hiding place, a male and female servant entered the foyer.
"That Stuart boy's really gone and done it now," said the male servant.
"I 'eard the commotion, but what were it about?" the female servant asked.
"Bloody fool left a gryphon cage open," the male servant continued. "Shouldn't be messing with those things. They've had to summon the Mistress herself to catch it. She's none too pleased."
"Never did like gryphons."
"Me either, but our Lady has her fancies."
Once the servants' voices had disappeared down a corridor, Emily peeked out from behind the tapestry. The foyer was empty. She felt a pang of guilt at having been the cause of Stuart getting into such trouble. It did seem to be an effective distraction though, but it would be all for naught if she didn't hurry to the tower.
Up the stairs, to the right, down the corridor, taking the first left. Emily had done enough different jobs in the manor to have a pretty good sense of its layout. Though she hadn't been able to think properly about much with that infernal bonnet squeezing her head, it hadn't stopped her from mentally mapping out the manor. The tower wasn't far now.
Emily turned the next corner and heard a shocked gasp that made her blood run cold. Standing just in front of her was Gladys, her dark-haired roommate. Gladys's eyes were large and round, and the duster she'd been holding had fallen to the floor. "E—Emily!" she cried.
Standing frozen, Emily's eyes locked with Gladys's. Her mind spun out, panicking. She was caught! It was over!
No! Emily told herself to calm down. She'd been seen by one person, and she was so close to the tower. Recalling how she'd reacted to Ethel's madwoman story, Emily knew just how to deal with Gladys.
Throwing her head back, Emily let out a strange cry, "Wahahahaha!" Then she pulled her arms from her body and shook them around, jumping erratically from side to side. Not believing what she was doing, she loped towards Gladys, flailing her arms in a manner that she hoped was sufficiently crazy and menacing.
It worked. "M—madwoman!" Gladys shrieked, her face turning white as a sheet. Then she fainted.
Emily rushed forward and managed to catch Gladys's head before it hit anything hard or sharp. She was out cold, completely unresponsive. Emily gently laid her head down on the carpet. Briefly, she considered taking Gladys's clothes but decided that she'd tormented the poor girl enough. It would take too long to get them off her anyway.
Soon after leaving Gladys, Emily reached a non-descript wooden door at the end of the corridor that opened up to the base of a very narrow spiral staircase. She had reached the tower.
Emily stepped through the door and began ascending the staircase, grateful for the narrow space and relative darkness. After numerous turns, the staircase finally opened up to a circular stone chamber—Lady Elara's private magical workroom.
Heavy mahogany bookshelves lined the walls of the chamber, stuffed with books on all kinds of magic. Surveying the titles, Emily noted "Alchemy of Stardust", "Zephyrs of the Eastern Winds", "Possession Charms for Beginners" and "Investigations into the Essence of Life". Gnarled, ancient tomes were set next to fresh, manuscripts, and rolls of parchment peered out from every nook and cranny.
On a grand desk positioned at the center of the chamber lay a chaos of papers filled with cryptic symbols, and vials of multi-hued liquids. A large space had been cleared in the middle of the desk.
Beside the desk, an open book entitled "Magical Artifacts of Western Thessolan" rested on a stand. It was open to a page containing an illustration of the Stoneshell, surrounded by beautiful calligraphic script.
"The Stoneshell is believed to have been carved by Thurseus Irontail, the first Emperor of Mer," Emily read. "Made from rock originating from the deepest part of the Trench of Trule, it was intended as a betrothal gift to a human woman, Evangeline, whom Thurseus had fallen madly in love with. Evangeline was delighted with the gift and gleefully accepted Thurseus's proposal."
On the opposite page, a smaller illustration depicted a handsome, muscular merman half-submerged in water offering the Stoneshell to a woman standing on the shore.
Emily read on. "Once the Stoneshell left the water, Evangeline discovered that it allowed her to summon fire, which warmed but did not burn her. With this power, she became a formidable sorceress. Some sources ascribe other powers to the Stoneshell—healing, flight, powerful sight and hearing, even clairvoyance—but fire is the only one generally accepted by magical scholars."
Emily let out a low whistle. What if those other powers really did exist?
"As scholars of history will know, Thurseus Irontail was assassinated the day before he was to marry Evangeline, and his empire splintered shortly afterwards. Sources differ on the fate of Evangeline. The Stoneshell was thought to be lost for centuries, before coming into the possession of Raja, a founding member of the Order of Mages. He began a tradition of adding additional small enchantments to the artifact, which is detailed in the next section."
So the Stoneshell was not just a betrothal gift, but a betrothal gift from a man who died before he could marry his love. Emily looked at the illustration of Thurseus and Evangeline again and could feel tears coming to her eyes. Sniffing, she turned the page.
"The Stoneshell is a borne artifact, which chooses its bearer. Its power cannot be wielded by any but its bearer. In the hands of a non-bearer, it increases in weight and may appear in different locations than where it was set down."
Emily glanced at the large empty space on the desk. Presumably, the Stoneshell had been sitting there until quite recently. But where was it now?
"Looking for this?" A calm, syrupy voice spoke from behind Emily, making her nearly jump out of her skin. She turned around to face Lady Aria, who wore a cruel smirk as she dangled the Stoneshell from her fingers.
Emily chided herself for getting so absorbed in reading that she had allowed Elara to sneak up on her.
"You didn't really think I'd just leave this lying around for anyone to find, did you?" Elara said. "I keep it with me at all times. As you may have read, it has a habit of disappearing."
Emily scowled. Here was the woman who had enslaved her and stolen her most important possession, taunting her. And she was defenseless—literally naked.
Elara cast a disdainful eye up and down Emily's body. "Didn't you like the outfit I picked out for you? I thought it rather suited you. You certainly looked more comfortable."
"Y—you enslaved me!" Emily screamed, balling her hands into fists. "You're a thief and an evil, evil woman!"
Elara regarded the Stoneshell dangling from her fingers. "An artifact as powerful as this does not belong in the hands of a silly young girl who can't even keep her clothes on for five minutes! You don't know the first thing about magic! You haven't studied, or sacrificed like I have!"
The venom in Elara's words caused Emily to shrink back, cowering against the desk and covering herself with her hair and hands. In Elara's hand, the Stoneshell moved slightly, as if pulled by an invisible force.
"Yes, cower like the dog you are," Elara spat. "Bessie is on her way with a new outfit for you. The design is greatly improved and imbued with much more powerful magic. It's just a necklace this time, as that's the only thing you seem to want to wear. You won't be cavorting with any servant boys in this one, but I'm sure they'll appreciate the view."
"Bitch!" Emily screamed. The Stoneshell moved again. Emily focused her eyes on it, willing it to come to her.
Elara raised a palm, as if ready to strike Emily. "Stupid, worthless little whore!"
At this, the Stoneshell jumped free of Elara's grasp. She gasped as the necklace sailed through the air, spun around neatly, and hovered above Emily's head for a moment dropping onto her shoulders.
"W—what?! How?!" Elara shrieked.
"I have no idea," snarled Emily, rising up from her crouch. "After all, I'm just a stupid girl who can't keep her clothes on!"
Savoring the fear in Elara's eyes, Emily thrust her right hand forward. Instantly, without her even giving the mental command, a massive ball of flame erupted from her palm. It shot outwards and upwards, blasting through an open window a few feet above Elara's head.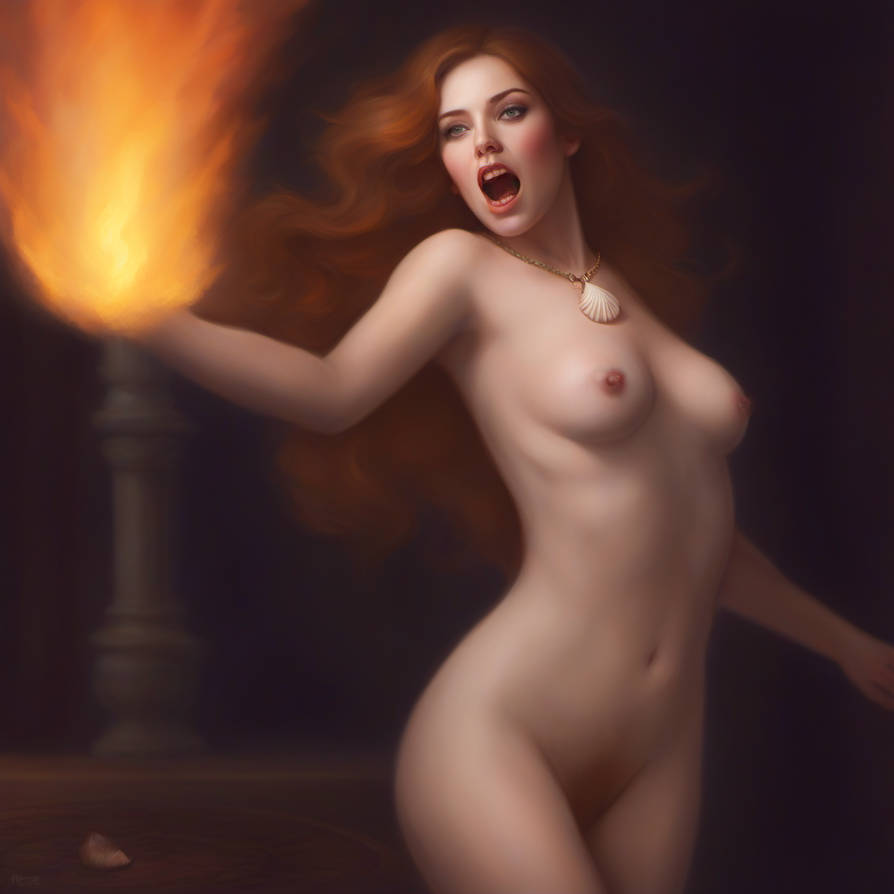 Elara stumbled backwards, tripping over a rug and stumbling backwards into a bookcase. Another fireball appeared in Emily's palm, and she thrust it out between them as she dove for the exit. She was out, down the spiral staircase two steps at a time, almost tripping, blackening the stone wall with the fire in her palm.
Bursting out of the door to the tower, Emily saw Bessie coming up the corridor towards her, a dragonfly necklace on a heavy chain held out in front of her. But Bessie's face turned white as a sheet when she saw Emily, angry, naked and carrying flame in her right hand. The necklace fell from her hands, and she immediately turned around and ran as fast as her stubby legs could carry her.
Emily raced down the corridor, through the foyer and around to the back of the manor. The flame in her palm grew bigger, and she could feel the adrenaline in every limb.
Aria stood in the doorway to the garden, stopping midstride and crying out in joy as her eyes met Emily's. The reunited companions ran towards each other and embraced, Emily holding the flame out behind Aria's back, tears in both their eyes.
"I was free the instant I saw a fireball shoot out from the top of the tower," Aria said. "That was your doing, I trust."
"I'm so sorry, Aria," Emily replied, barely hearing her. "She—she made me give up the Stoneshell."
"It is I who should be sorry, Emily." Aria rubbed a soothing but cold hand across Emily's upper back. "I was too quick to place my trust in Lady Elara, merely because she resembled an ancient friend. I should have known there was something not right about her when she refused to return your cloak and made you sit for dinner in the nude."
Emily missed her cloak. "Let's just go."
The two companions separated from their hug and turned back towards the foyer. The main doors were wide open, but in between them stood Lady Elara, panting from exertion. Her countenance was twisted in fury her eyes were ablaze with a cold fire. In her right hand, she wielded a long wand which appeared to be made of ice. Intricate designs were etched into its surface and a crystal of pure frost capped its end.
"Leaving so soon?" Elara asked, her voice half sweetness and half pure menace. "Please, do not insult the hospitality of House Odonata."
She pointed her wand directly at Emily, and a bolt of ice blasted from its tip. The icy missile hurtled towards Emily and Aria. Operating on pure reflex, Emily thrust both hands out in front of her and imagined a wall of flame. The Stoneshell felt hot against her chest as a barrier of fire erupted before them, clashing with the surge of ice. Steam hissed into the air, clouds of vapor shrouding the foyer.
Icy water splashed against Emily with a force that almost winded her. The Stoneshell's magic was potent, but Elara was an experienced magic user, now equipped with her own powerful artifact.
Aria grasped Emily's arm, whispering urgently. "We cannot win this fight, not now. We must leave!"
"How? She's blocking the entrance!"
Aria thought for a moment, her marble hand still tightly clasping Emily's arm. "I'm sorry, Emily," she whispered, so softly that Emily had to strain to hear her.
Before Emily could reply, Aria pulled her close and she felt cool marble against her bare butt. Aria held her arm firmly behind her back, so that her exposed front faced Elara, and then began marching her forward. "Ow!" Emily cried. "Aria!"
"I have her under control, milady!" Aria shouted, as she grabbed Emily's other arm and pulled it behind her back as well, snuffing the flame in her palm. Emily squirmed in confusion and embarrassment as she was marched towards Elara.
"Well, well, well, this is an interesting development," said Elara, lowering her ice wand. "Why the change of heart, Aria?"
"Only a powerful mage can fully reverse the curse on Castle Elid and help me become flesh again!" Aria spat. "The Stoneshell is useless in the hands of a neophyte!"
Tears welled up in Emily's eyes. She thrashed against Aria's vice grip, and small, sporadic flames erupted from her palms and the Stoneshell itself, but neither action had any effect on Aria.
"A rational conclusion," Elara replied.
But as she walked from the doorway towards Aria and the struggling Emily, Emily felt Aria's grip loosen. Another whisper, barely audible, reached Emily's ear. "Run."
The moment Aria released her, Emily took off sprinting, awkwardly sidestepping Elara, who cried out in shock. She felt four long nails rake against her arm as she raced for the door.
Momentarily glancing behind her as she exited the manor, Emily saw Aria barrel straight into Elara, knocking her flat with the force of her dense marble exterior. Elara's wand fell from her hand and skittered across the floor.
Emily ran faster than she ever had before and Aria was right behind her. They heard a strangled cry of anger and frustration behind them, which only quickened their pace through the orchard in front of the manor.
"Head for the wood!" Aria shouted.
The two companions ran from the neat orchard into the dense and tangled natural woods beyond. The uneven ground hurt Emily's feet, but she ignored the pain and pressed on. Deeper, further, away from the manor, away from Elara, into the cold and wild night.
Finally, Emily could run no longer, and she slowed to a walking pace, ribcage rising and falling as she panted for breath. Aria gained the distance between them and, with a quick and elegant motion, scooped Emily up into her arms. "Rest awhile," she said gently.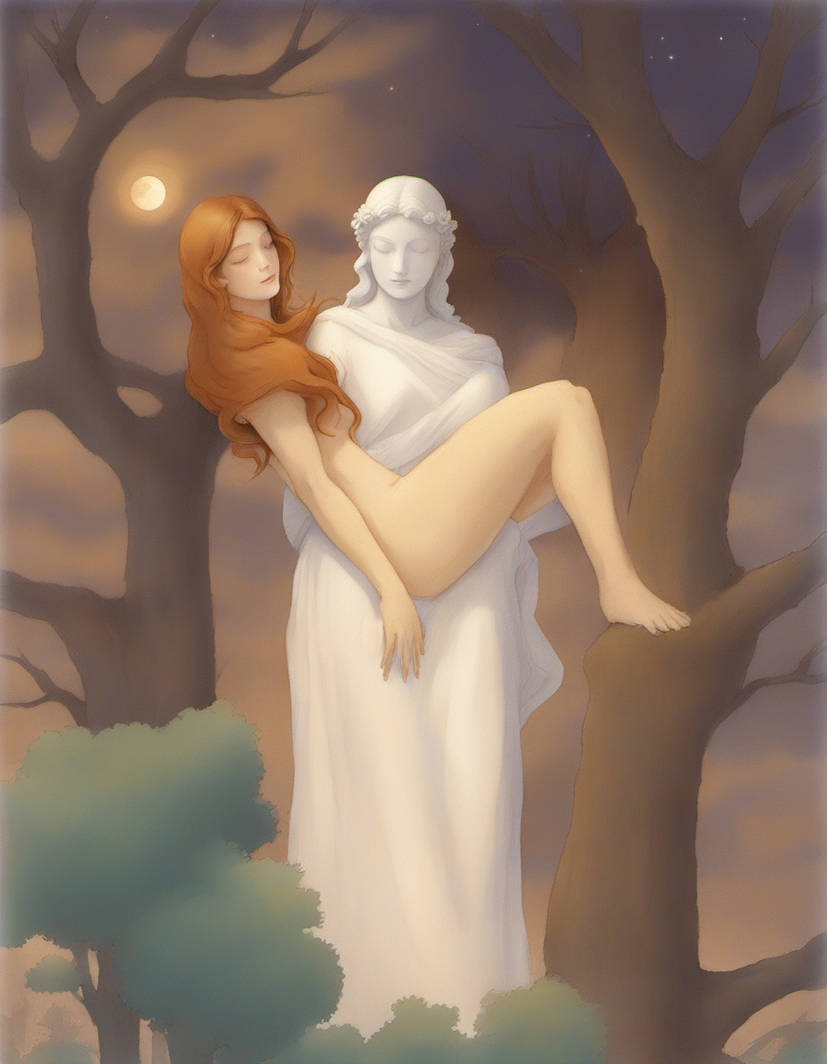 The night was silent but for Aria's stone footfalls. The cool air nipped at Emily's skin, and she felt a dull ache in the soles of her feet. She focused her thoughts on the Stoneshell lying against her chest, and slowly its warmth spread through her body.
"You really had me going there, Aria," Emily said, once she'd caught her breath. "I thought you'd betrayed me."
Aria gazed ahead at the dark forest. "That's why it worked. Elara saw the genuine shock and hurt you experienced, and she believed it too. It was the only way I could think of to get her out of the doorway."
Emily thought back to how powerless she had felt in Aria's hold. How the Stoneshell's fire could do nothing against an adversary made of stone. "So you didn't really mean those things you said. About me being unfit to wield the Stoneshell… and to help you turn back."
Aria looked Emily in the eyes and smiled sadly. "Of course I did not. The Stoneshell chose you, never forget that. I have full confidence that as we practise and you learn to master its powers, you will find a way to turn me back to what I once was."
Emily looked away, wishing that she shared Aria's confidence. The confrontation with Elara, brief as it was, had highlighted how much she still had to learn. The Stoneshell had made her powerful against two-bit bandits and lecherous men in taverns, but she was still no match for a real mage. And she had not the slightest idea how she would even begin to try turning Aria back into a human. Then she remembered something.
"There was a book in Elara's study. About magical artifacts. It had a whole section on the Stoneshell, but I didn't have time to read all of it. If only I'd thought to grab the book!"
Emily shared what she had read with Aria, who nodded sagely. "It would seem that our stay in the manor was not a total loss, then."
"Except in terms of clothing," Emily added, wiggling her toes.
"The seashore is not far from here," Aria said. "Now that we know the Stoneshell's origins, we should seek out the merpeople. They may be able to tell us more about it."
"I haven't been to the beach in ages," Emily replied. "Hopefully it's a nude beach."
Aria looked perplexed. "A what?"
"Never mind."